Cross SDI Gate
LANETCO's 16x16 Cross SDI Gate is a true matrix switcher allowing any inputs to be routed to any or all outputs simultaneously.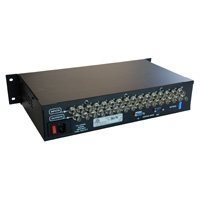 The standard model is 16×16 and is easily configurable to smaller matrices such as 8×16, 8×8, 4×4, etc.
It features an automatic rate selection for 5 SMPTE video standards.

The input stage performs automatic and high quality signal equalization. It allows the use of very long cable lengths.
The output stage relocks automatically each output signal and data is muted when the input source is lost. It is also adjustment-free and is optimized for driving 75 ohm co-axial cables.
All SDI inputs and outputs of the cross point are fully differential, resulting in optimal jitter and noise performance.

Main Specifications

• 16 Inputs SMPTE-259M serial video, 75 ohms
• 16 Outputs relocked SMTPE-259M serial video, 75 ohms (level = 800mV)
• Switching by vertical interval for seamless transitions
• Fully compatible with SMPTE 259M and accepts PECL input levels
• Supports Video Standards at 143, 177, 270, 360 and 540 Mb/s
• Controlled in RS232 through IPCubeManager™
• I/O BNC connectors
• With high quality cable, length can be greater than 350m at 270Mb/s

Options

• Front panel for direct control and LCD display, with storage of preset configurations


Click here for more information...