HyperPlasma™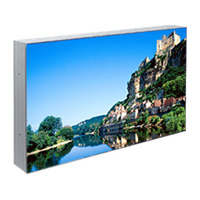 LANETCO provides Plasma Video Walls with seamless technology in 42" and 16:9 ratio display units. Any configuration like 2x2 or 5x5 to 10x1 etc. can be realized and all can work in perfect combination with LANETCO's External Processors: HyperLan™, IPVision or HyperVision™, but also with its Cross Gates.

Main Specifications

• High peak brightness & contrast ratio.
• Slim and light weight.
• Wide viewing angle.
• Internal TEST Pattern (Window, full white, RGB).
• Advanced digital circuit design.
• Adopted exclusive digital processor.
• PC (RGB) input/output terminal.
• Video input/output terminal.
• Up to UXGA, easy and quick control through the RS-232C displayed.
• Auto selection among color standard NTSC, PAL, SECAM.
• Image quality enhancement.
• Easy configuration for multi screen by daisy chain.
• Realization of Multi Displays & various picture Effects.
• Enhanced Image Qualities.
• RS-232C Control Functions.
• Fully controlled through IPCubeManager™.


Click here for more information...