HyperLan™
HyperLan™ is LANETCO's Network & Display external processor used in applications where network based management and LAN picture capturing are required.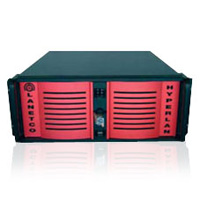 Thanks to multiple graphic cards which may be inserted as required, the system allows users to show Very High Resolution pictures impossible to handle through a single VGA card.
Either DVI-TMDS digital or traditional analog graphic outputs may be provided.

HyperLan™ simply adds network functionalities to any IPCube™ based Video Wall system. Coupled with IPCubeManager™ control software, HyperLan™ provides users with the ultimate Control Room Solution from LANETCO.

HyperLan™ brings a unique possibility of displaying LAN resources, network applications and independent pictures of any format through multiple IPCube™ channels.

Main Specifications

• Wall management and control of network resources through a LAN
• Workstation remote control and screen display on the wall
• Multiple independent Network connections possible
• Easy to use Graphical User Interface
• Preconfigured setups and scenarios
• Single centralized database increases security and ease of management
• Handles Multiple operators
• Handles multiple Application Servers
• Windows Terminal Server and UNIX session display
• Wall Preview and Control on dedicated Control terminal
• Possible use of third party control hardware
• Security, scheduling and redundancy management
• Fast, stable and scalable system
• Multiple software languages


Click here for more information...